Shri Rakesh Mohan Joshi (Independent Director)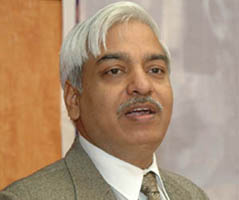 Appointed by the Board w.e.f. 1 st October, 2018, Shri Joshi serves in the capacity of Non-executive, Independent Director.
Shri Rakesh Mohan Joshi, aged around 56 years, is an author, scholar and management expert. Known for his scholarly aptitude and a flair for writing, Prof. Joshi has authored many books which are widely prescribed as core text books in several business schools across the world. His case studies have been awarded by London Business School, besides several approbations. His case studies are published by European Case Clearing House (ECCH), London Business School, Administrator, the Journal of Lal Bahadur Shastri National Academy of Administration, Mussoorie, The Smart Manager etc.
At present he is the Professor and Chairperson, International Collaborations and Capacity Development at Indian Institute of Foreign Trade. He has been the Chief Resource Person for conducing capacity development programmes on International Trade as for participants based in several countries including Cambodia, Fiji, Philippines, Vietnam, Bangladesh, India, Islamic Republic of Iran, Nepal, Pakistan, Sri Lanka, Republic of China, Indonesia, Malaysia and Thailand. He also spearheaded India's efforts in building indigenous capacity in Africa in the area of International Trade and Business and is engaged in setting up a Pan-African India-Africa Institute of Foreign Trade in Kampala, Uganda. He has led the Indian team to conduct Capacity Building Programmes on International Business in several African countries including Ethiopia, Egypt, Botswana, Namibia, South Africa, Uganda, Rwanda,Burkina Faso, Sudan, Mauritius, and Seychelles.