Shri Alok Verma (Director)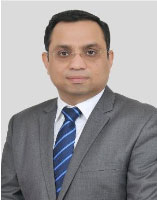 Appointed by the Board with effect from 7th September, 2018, Mr. Alok Verma is a Chemical Engineer and an MBA. He has also done an Executive Program in Business Management from IIM Calcutta and has a Diploma in Management from Copenhagen Business Academy, Copenhagen. He is a Certified Six Sigma Plus Green belt holder.
Mr. Verma has more than 2 decades' experience in Fertilizer and Refineries. He has been involved in Technologies and Catalysts in Refineries, Hydrogen and Ammonia plants mainly for Design, Execution and Business Development and contract negotiation. He has been managing large office, leading, motivating and managing teams of different cultures, involved in Strategy development, implementation, and change management.
Earlier he was the Managing Director, Haldor Topsoe South East Asia, located in Kuala Lumpur, Malaysia, responsible for expanding Topsoe business in the South East Asia.
Mr. Verma started his career with Projects & Development India Ltd. as part of Process Engineering department and has also worked with global technology licensors like UOP and Axens.